Trusted distributor for the creative arts marketplace
PA Distribution offers a multi-service solution to the sewing and crafting industry's distribution, shipping, and fulfillment needs. We are the only major craft distributor on the West Coast, perfectly positioned to distribute product originating from a global market to a wide variety of retailers.
We bring both decades of experience and a continuing enthusiasm for innovation to the table today. By providing both products and logistics, we offer our customers solutions for replenishment of wholesale product according to their individual needs.

Company Facts:
Established in 1959 as Petersen-Arne & now known as PA Distribution
Over 100,000 square feet of manufacturing, office, and warehouse facilities
Long-term employees - 40% of PA staff have been with us for over 10 years
Currently filling shelves and pegs weekly at over 4,000 sewing and craft retailers
Home to several widely distributed house brands, including Paper Accents, which is manufactured on-site in Eugene, Oregon

Wholesale value with a personal touch
With our range of products and quick turnaround times, we make it easy to keep stores stocked with everything from everyday basic creative supplies to the hottest holiday and seasonal items.
We carry a huge variety of stock from top vendors, helping condense shopping to a one-stop order.
Our easy-to-use website is updated nightly with brand new products just received into inventory.
PA's team of customer service reps are on hand to answer questions and assist with orders.
We break pack on many items, allowing our customers to order in minimums, thus keeping inventory on the floor while minimizing investment costs in the back room.
Our warehouse efficiencies ensure that we ship orders accurately and fast.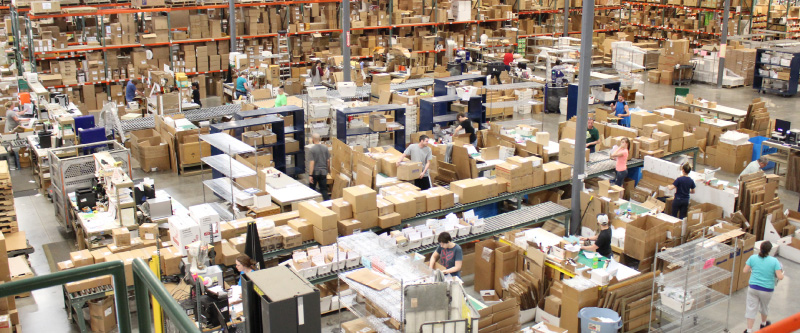 A full range of shipping and fulfillment services
As the only major craft distributor on the West Coast, we are perfectly positioned to quickly receive and process product from overseas and to serve California, the seventh largest economy in the world.
With daily pulling, packing, and shipping services, product arrives with speed and efficiency.
We offer customized and discrete eCommerce fulfillment and B2C blind drop shipping.
EDI equipped and automated with many of America's top retailers.
We provide fully integrated consignment and logistics services.